Endurance swimmer Lewis Pugh has completed his challenge to swim the length of the English Channel in support of cleaning up the oceans.
The 48-year-old finished the 560km (348 mile) gruelling swim from Land's End in Cornwall to Dover in Kent in 49 days.
Watch the live video of his arrival below:
He was greeted at Shakespeare Beach by Environment Secretary Michael Gove.
The environmental campaigner and UN Patron of the Oceans began the challenge on 12 July, swimming 10 to 20km (six to 12 miles) every day.
Speaking to the BBC on Monday, Mr Pugh described the challenge – the equivalent of swimming 16 English Channels back to back – as the "Everest of swims", and said it had been one of two halves.
"The first half from Land's End all the way to the Isle of Wight was wonderful. Warm seas, flat seas.
"The second half we've had storm after storm after storm," he said.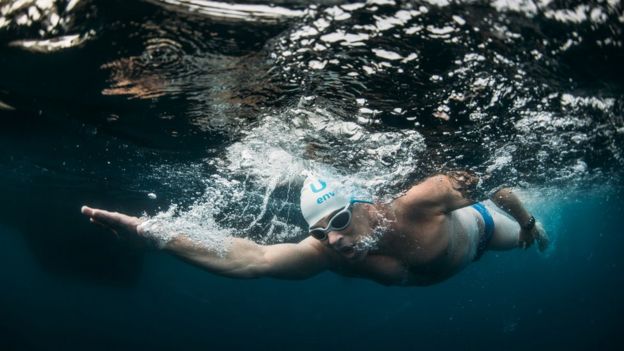 His campaign, called The Long Swim, aims to raise awareness of the threat to the UK's coastal waters from climate change, over-fishing and plastic pollution.
"What has really shocked me is just what I haven't seen – so I've seen a few fish," he said.
"I've seen a few dolphins, a few birds, lots of jellyfish, but virtually nothing else – the oceans around the United Kingdom are so badly over-fished.
"We have this one opportunity now to protect the waters around the UK.
"If we don't do that there simply won't be any fish left for our generation. Forget about future generations if we don't take action right now," he said.
Channel swimmer in 'jellyfish paranoia'
Mr Pugh's swim has been observed and verified by the Channel Swimming Association.
"I swim according to Channel Swimming Association Rules… we swim with a cap, goggles, a pair of Speedo swimming trunks," he said.
"It's not that we want to be macho, but we want it to be tough. It's one of the toughest swims that you can do in the whole world.
"There's no reason why I should change those rules just because I'm swimming the full length."