Be a Water Warrior at The Color Run in Cape Town (or any town)!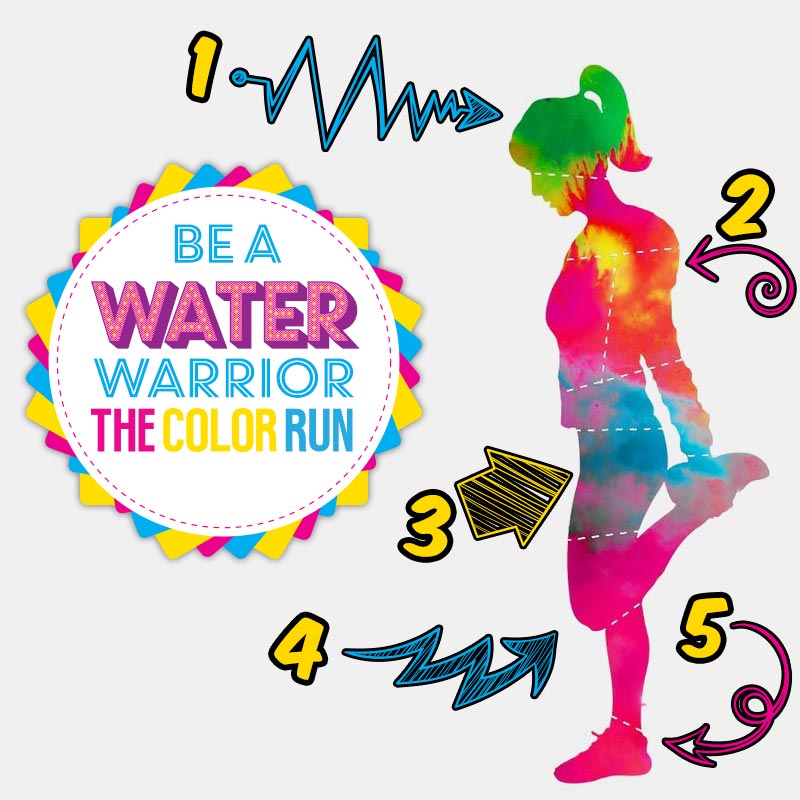 The Color Run is coming to the Cape Town on November 10 and we're pumped up for the Happiest 5k! As we all know the WC (and other large parts of the country) are still struggling with the massive drought and water restrictions that are in place.
As always, The Color Run is focused on community and this includes a conscious effort to ensure that the region only benefits from an influx of heroes.
We're looking to leave Cape Town cleaner than it found it – and it will be using ONLY non-potable water for cleaning, and only where absolutely necessary.
Additionally, we have sourced and purchased non-potable water from accredited suppliers, who will be bringing water to the event from outside the effected areas.
The event will also be minimising mess, and minimising the need for water-based cleaning, through massive PVC sheeting, great-big vacuum cleaners, and muscles – meaning more jobs on the day for the region.
We're also looking to make lemonade out of lemons and will be collecting all the very colourful race tees after the event. If you want to donate your tee then we will ensure they are cleaned in an area where there's more water to spare, and distributed to the a great cause / NGO.
We implemented drastic water saving measures for our Cape Town and Stellies events in 2017 with great success and are looking to ensure that this years event goes event further. This years event will not add additional strain to the municipality's already strained water resources in the following ways:
• The Color Run is bringing in water sachets for participants from Johannesburg as it did for the Cape Town & Stellenbosch 2017 events
• Cleaning will not require much water as evidenced an the 2017 event – the clean-up was almost entirely dry with only 2,500 L of non-potable water ordered from the Overberg district from a supplier who is licenced to provide mineral and non-potable water. The left-over water was donated to a local running club for their use at training and small road running events
• The Color Run's Water Warrior social media pages are being updated to heighten awareness for participants to be responsible in their water use for personal hygiene and laundry, in line with the level 6b restrictions
• Participants will also be encouraged to bring their own bottled water to the event
• Vendors at The Color Run are required to bring their own bottled water (50L) for cooking and cleaning and take away / recycles their grey water
• The organisers of The Color Run have informed the local municipality that they will not be using any municipal water at the event
• The venue toilets will be locked and The Color Run is supplying sufficient chemical  portaloos, which will eliminate the flushing of toilets by the public
• There will be a clean-up area at the Festival Zone where participants can get the powder blown off before leaving. We are using high-powered leaf blowers, which are hugely effective.
• We have done away with water and are only providing Koee fruit juice at the water point and end point.
• We have done away with plastic water sachets and non-recyclable cups completely.In addition we're looking to
So that's us… now what about you? We're in it together and our CT team wanted to give you some simple heads up on what we can do ensure that we're all water warriors at this years Superhero tour!
Save-a-shower!
It's simple, you know you're coming to the run and you know you'll be cleaning up so stockpile a shower if you need a little extra by skipping a shower the day before and deffo don't clean up the night before or on the morning before you come and see us! You're going to get messy, it's no biggie!
1: Head
Let's start at the top and make sure we're using our pip!
– Cover your hair
– Wear a wig, mask, buff, bandana, hat or any other head covering to minimize powder in your hair
– Use a leave in conditioner before the event (this will protect your hair from color and also ensure you hit your 2 min shower)
2: T-Shirt
– Donate your t shirt in the bins provided.
We will wash in a non-water scarce area and donate to a needy institution.
If you want to keep your Tee, no problem – just pop in the regular cold wash with dark colours. ONE wash is enough.
Heck, we're at this 13 events a year and we never need to double dip our rainbow encrusted gear!!
3: Shorts
– DON'T wear your favourite G-Star/Diesel/Nike togs it's not going to end well.
To wash – ONE wash in cold water with dark colours is enough.
We even run our machines on the quckie 19 min cycle and we look spick and span at all times. Our moms would be proud!
4: Legs
– wear long socks to minimize the powder on your body. Not only is this sensible but it looks pretty great as well.
5: Shoes
– Don't wear your brand new Nike Airs – wear comfortable shoes that you don't mind getting a bit of character. Plus is that after the run you have a unique piece of art to remind you of the day.
If you have to wear your best running shoes, the easiest way to clean: Blow off residue with a hair dryer – dry cleans are the best. Use a damp cloth to wipe off the powder that remains. If there are any serious powder coating then you can wash the remainder off in a small basin of water with a
scrubbing brush.
Don't blame us for your previously dirty skanky shoes. 
Other hints n tips:
Finish your run with a visit to the Clean-Up Zone where we'll help you get rid of a lot of the rainbows you're collected along the route. Key thing is that our powder actually doesn't like water too much so dry brush, blow and then what little colour that is left will need less water… Nice.
Shower:
The powder comes off very easily. A regular 90 sec shower should do the trick if you follow the water warrior pointers above.Get soaped up and shampoo in before you even turn that tap.
Remember – nobody in the history of The Color Run has been permanently stained pink or blue – you may have a slight legacy for a few days if you got particularly powdered up, but it just makes you more of a water warrior to let time do the cleaning and not the steamy long shower.
Cars:
Cover all seats with garbage bags before you leave home.
Keep some wet wipes handy for the grubby paw syndrome
Keep a box or bag in the boot for dusty powder covered shoes and clothing.
Any powder on seats can be removed with a DRY vacuum. No water is required for this cleaning.
If your car has any powder on it – do not use water to wash off. Use a blower or dry cloth.
So there you go! We're up for it, you're up for it so let's do it together!