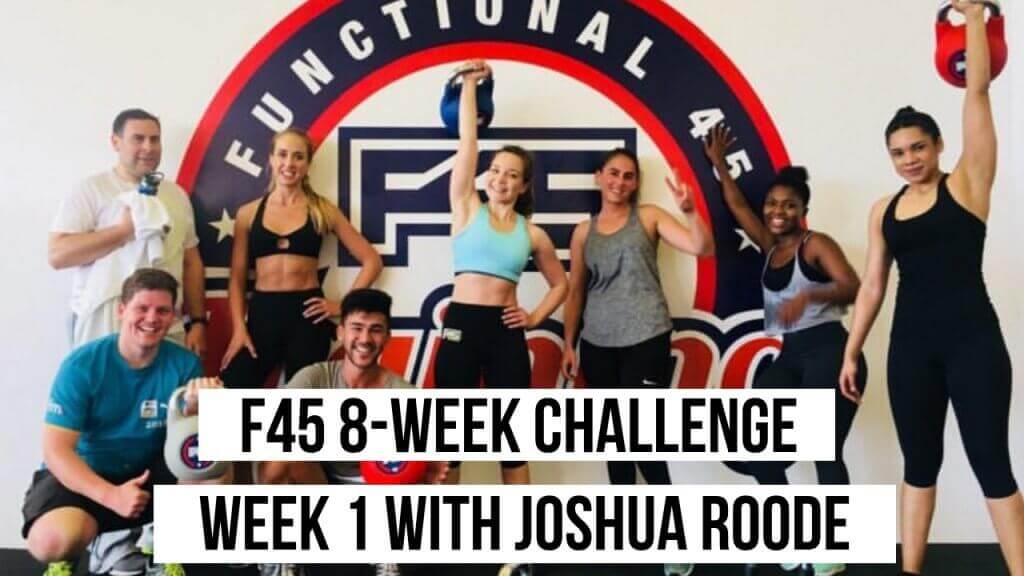 Fitness is a topic I have really wanted to expand on Cape Town is Awesome and when the opportunity for me arrived to do the 8-Week Challenge with F45 Training in Woodstock, I knew that I had to do it.  I had just watched my friend and well known Instagrammer Heinrich Knoetze @instacptguy go through the 8-Week challenge and he got amazing results.  I was curious, I had questions but at the same time, I was desperate. I went from being a regular runner who frequently did 10km and 21km races to become depressed and not being active due to a variety of reasons.  I knew that this was going to be my turning point.  At first, I went for a trial visit and got to meet the lovely team, on that day both trainers Roxy and Jay were so welcoming and supportive.  Even though internally I was feeling so vulnerable and wanted to run out before the class started I stuck around, got changed into my gear and started my first ever functional fitness class.  I was trying hard to do all the exercises as best as I could, I knew I was in good hands as both Jay and Roxy guided me along the way. Even though I had to take breaks and lie down, I knew this was going to be my new fitness home.  I have been doing a daily video diary on IGTV and have also uploaded it to my spare YouTube Channel.  Watch the day by day videos below.  I look forward to chatting to you again after week 2 of the 8-week challenge.
F45 8 Week Challenge // pre-challenge diary entry
Pre-Challenge of the F45 8 Week Challenge. I'm training at F45 Woodstock in Cape Town, South Africa In the run-up to the start of the 8-week challenge I attended two classes and they really were difficult for me. But they did make me feel like I had worked hard and I wanted to challenge myself to be able to finish a 45min class.
F45 8 Week Challenge // Day 1 Diary Entry // Before Photos
Today is Day 1 of the F45 8 Week Challenge. Im training at F45 Woodstock in Cape Town, South Africa I booked a 7:45AM session for the class called MVP MVP – the concept behind this cardio workout is: – 12 stations with a working set of 60 seconds and rest of 30 seconds. – Complete 2 full laps of the 12 exercises with 1 set moving from 1-12 in numerical order. I was super excited as I managed to complete 2 full laps. Previously in my trial class, the week before I was so light headed I had to lie down for most of the class.

Day 2 Diary Entry // Wingman Workout
I booked a 6:15 PM session for the class called WINGMAN: PAIRED RESISTANCE Grab a buddy and share the pain as you kick the butts of 800 calories in this super charged session. 'Believe and squeeze' as you exercise your right to functional movement patterns for resistance. 45 minutes later you'll walk out with improved energy levels (though it may not feel it at the time), higher metabolism and greater endurance.
Day 3 Diary Entry // World Mental Health Day
I booked a 4:15 PM Class with my buddy Heinrich aka @instacptguy on Instagram. Today's class was FOXTROT: CARDIO BASED Back to basics here in this tough, military-style resistance system. Don't expect to rest, chit-chat, or leave dry. Foxtrot is an EPIC cardio adventure. It was a super tough class and I pushed hard through. It was also World Mental Health Day and I got really vulnerable in this video. World Mental Health Day is a day for global mental health education, awareness and advocacy against social stigma. It was first celebrated in 1992 at the initiative of the World Federation for Mental Health, a global mental health organization with members and contacts in more than 150 countries.

Day 4 // F45 8 WEEK Challenge // PANTHERS Class
I booked a session for the class called PANTHERS: FUNCTIONAL & RESISTANCE
It's the Royal Flush of training: strength, endurance, combat prowess, cardiovascular and three bucket-loads of sweat. It's hard work and great fun as you learn your true limitations. The session only takes 45 minutes but your endorphins will keep swimming for hours.
Day 5 of the F45 8 Week Challenge.
I booked a session for the class called 22: PAIRED CARDIO Pray you get a good partner because you'll be going through hell together. But then, apparently that's the best way to heaven. Welcome to the infamous F45 1,000 calorie killer workout. No muscle escapes our attention since muscle tissue burns 15 times as many calories as fat. Even after your session, your metabolism will still be in overdrive. Listen carefully and you'll hear the calories burning.
Day 6 & 7 REST Days // Progress Photos
I took Day 6 & 7 as rest days. Rest is just as important as training hard. Your body does some of its best work, during rest. I always remember this saying, "rest is intentional, burnout is a consequence" I have also included some photos of my progress thus far.
Thanks for making it this far, feel free to ask any questions that you may have.
You can follow my journey daily on my INSTAGRAM @joshuaroode
Follow F45 Woodstock
Instagram: http://bit.ly/2Oeq4tc
Facebook: http://bit.ly/2QGzqea
Website: http://bit.ly/2C7Au6L